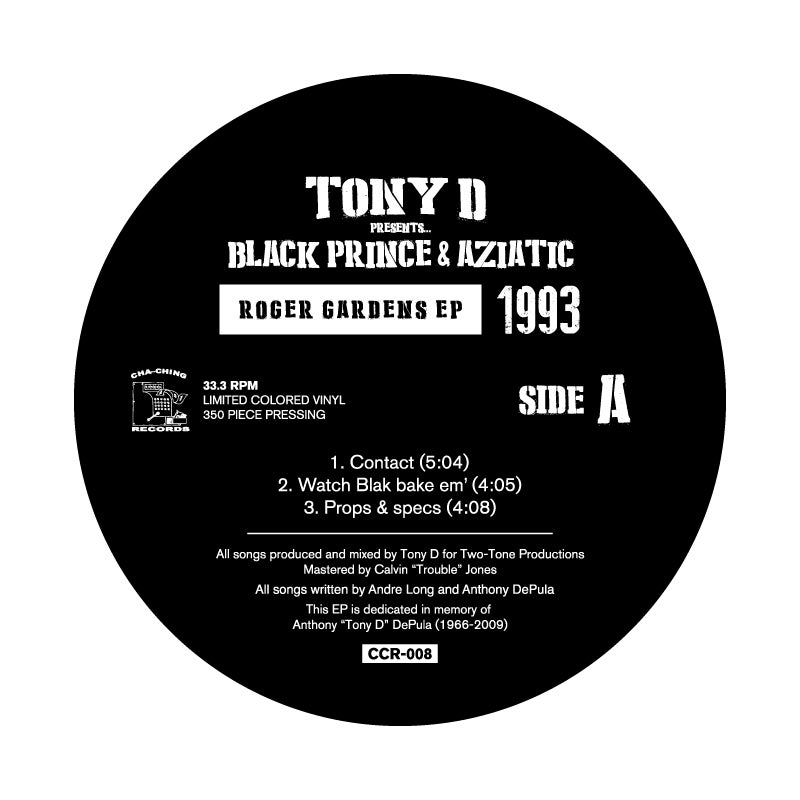 Black Prince aka Don Blaq, a Trenton, NJ MC who has been featured on DJ Doo Wop mixtapes. but also on Poor Righteous Teachers posse cut "Da Rill Shit" in 1993.
"Roger Gardens" was recorded in early 1993 and is completed with final mixes. All songs are produced by the legendary prolific Italian American NJ Hip Hop producer and emcee Tony D, who passed away on April 4th, 2009.
The Roger Gardens EP is being officially released on Cha-Ching Records through Tony D's wife.
A: Contact
A: Watch Blak Bake Em'
A: Props & Specs
B: Black Ya
B: Bringin It 2 Ya
B: Lifestyles Of A Rude Boy ft. S.B.T.
Release date: expected April '16
This EP is limited to 350 copies on transparent deep purple colored vinyl, hand-numbered in stickers sleeve.
My special thanks goes to Cha-Ching Records, Black Prince, Aziatic. RIP Tony D. All copyrights reserved, posted for promotion use only.