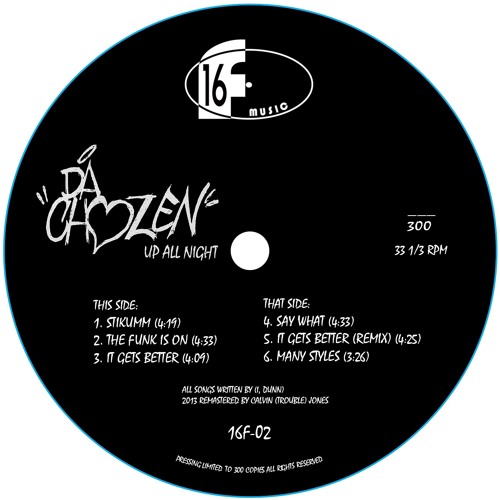 Second release of DJ Trouble's new label 16F Music features "Da Chozen" and is scheduled for December 2013.
NJ crew "Da Chozen" consist of Eshawn, T-Smooth, Big Bunk, B-Hop, Shortcutt (R.I.P), and Dj Tab DiBiassi, all born and raised in Silk City.
"When tragedy struck the group in 1993 with the sudden passing of group member Shortcutt, the group took a major dive. They group members were all childhood friends and with Shortcutt being considered the heart of the group his untimely passing sent them into a depressed state and had them contemplating not continuing making music. However knowing that Shortcutt would have not wanted any thing to stop their progress the group continued to do what they loved most ... Group member Eshawn who also coproduced the Ep, with DJ M.A.T.E handling the bulk of the production, wrote all the songs." [
source
]
A: Stikumm
A: The Funk Is On
A: It Gets Better
B: Say What
B: It Gets Better (Remix)
B: Many Styles
The EP is limited to 300 copies - 100 copies on
white
vinyl - 200 copies on
black
wax.
My special thanks goes out to DJ Trouble aka Trublife, Da Chozen and 16F Music. All copyrights reserved, posted for promotion use only.