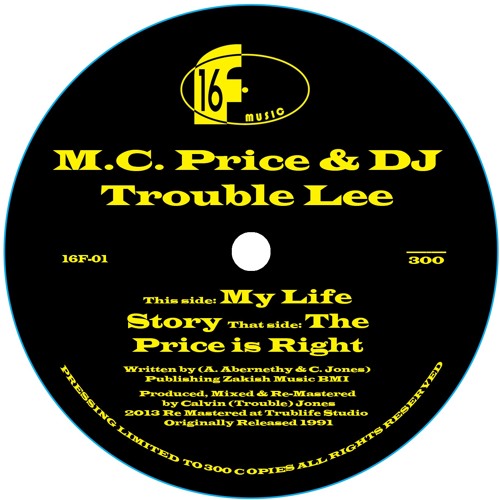 In 1991 M.C. Price & D.J. Trouble released the very rare two tracker " My Life Story bw The Price Is Right" on Standin Tuff Records.
Calvin "Trouble" Jones now re-releases the single on a limited 7" in an edition of 300 copies only - 100 copies on
yellow
coloured vinyl and 200 copies on black wax.
The 45RPM vinyl single delivers both tracks remastered for your listening pleasure. Well the price for coloured vinyl is quite hard but looking at the current price of the original 12" this might change your point of view a lil?
Order:
www.16fmusic.com
Coming soon on 16F: Da Chozen, The Candy Store, Bee Why, Ruste Juxx, Go Go Black, Doo Dirty, Major Stress, Mental Castaways, Poppa Smoke
My special thanks goes to D.J. Trouble aka Trublife and M.C. Price. All copyrights reserved, posted for promotion use only.