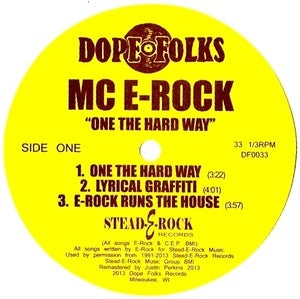 "Once again back is the incredible..." Dope Folks Records second release for mid/late June is a re-release of two records from the early 90s by Fort Worth/TX lyricist MC E-Rock.
Back in 1988 MC E-Rock released his debut single "Down For Mines / Something Different" on MCRawlik Records. The Dope Folks release focuses on his material from 1991 & 1993 and combines all vocal versions from these two records to one EP. As usual the release is limited to 300 copies!

A: One The Hard Way ('91)
A: Lyrical Graffiti ('91)
A: E-Rock Runs The House ('91
B: I Wanna Say What's Up ('91)
B: Designed To Make You Swing ('93)
B: Literary Freak ('93)
Both original releases are real collectors items, the 1993 12" is a limited edition of 100 copies only. Be quick and get your copy now at
www.dopefolksrecords.bigcartel.com
.
My special thanks goes out to John and Chris at Dope Folks Records and MC E-Rock. All copyrights reserved, posted for promotion use only.