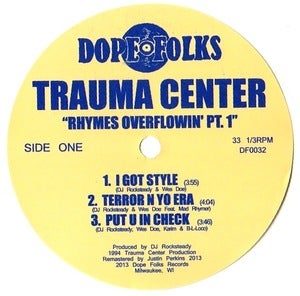 Dope ... Folks ... Next release on Dope Folks Records features the "Trauma Center" from Philadelphia.
Shephatiah aka DJ Rocksteady founded the Trauma Center in the early 90s and built up a studio to record tracks with the "Bad News Crew" and new MC's who were later signed to the group. In 1994 the crew released a
CDR
only album and in 2013 it's time to drop this on vinyl for the very first time.
The "Rhymes Overflowin EP" contains 7 tracks but is only Pt. 1 which is a promise to all fans for more from the Trauma laboratories. Vinyl available now and limited to 300 copies.
Purchase at
www.dopefolksrecords.bigcartel.com
or ask your trusted retailer to reserve a copy for you.
A: I Got Style
A: Terror In Yo Era
A: Put U In Check
B: I'm Raging
B: Spilling What I'm Feeling
B: Rugged Land
B: Unbearable
My special thanks goes out to John and Chris at Dope Folks Records and the Trauma Center. All copyrights reserved, posted for promotion use only.