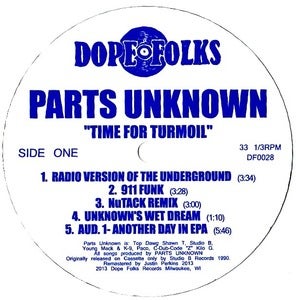 With a sell out of their last release (DF-0027 ft. Example) in round about one day Dope Folks Records manifested again their sense for in demand vinyl releases. The label already confirmed the shipment of the last two installments and pre-announced cat# twenty-eight featuring "Parts Unknown" from East Palo Alto.
The album "Time For Turmoil" got released in 1990 on cassette only. With the support of Dope Folks Records this will be available on vinyl for the first and maybe last time. Check the
store
in the next few days - preorders coming real soon.
The album contains 10 tracks - the vinyl release will be limited to 300 copies coming in a
sticker
cover designed in the style of the cassette artwork.
A: 911 Funk
A: NuTack Remix
A: Unknowns Wet Dream
A: Aud. 1 - Another Day In EPA
A: EPA city
B: Time For Turmoil
B: Smoove
B: Shit Talking Blues
B: Aud. 3-Trade Mark
B: Radio Version Of The Underground
My special thanks goes out to John and Chris at Dope Folks Records. All copyrights reserved, posted for promotion use only.