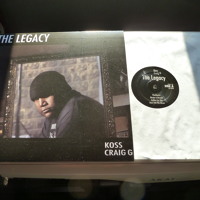 Koss (from Liége, Belgium) and I first met on the record fair in Utrecht, Netherlands. Koss and 12 Finger Dan told me about an upcoming project called "The Legacy EP" and a release date by end of January.
Now it's official that "The Legacy EP" comes on the 28th of January 2013. The EP features vocals by Juice Crew affiliate Craig G, beats and cuts by DJ Koss. The Soulbrotha fam 12 Finger Dan and B-Base are responsible for mixing and mastering of the blazin' 9 tracks.
A1: Flashbacks
A2: Master & Disciple
A3: Golden Era (Skit)
A4: Stare Into The Mirror
B1: Lyrical Quest (Skit)
B2: The Legacy
B3: Word Up
B4: Stare Into The Mirror (Instrumental)
B5: Stare Into The Mirror (Accapela)
Get your copy at
www.vinylism.de
and some other selected stores. I will add a list in the comments below very soon. Limited To 500 copies worldwide.
My special thanks goes out to DJ Koss, 12 Finger Dan and Craig G. All copyrights reserved, posted for promotion use only.