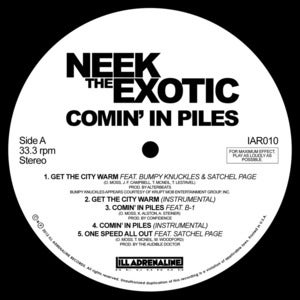 Mid November we can expect the pre-order for the Purpose & Confidence 2LP but this is not the only release Ill Adrenaline Records is currently working on. Straight from New York Flushing, Queens legend Neek The Exotic drops the EP "Comin' In Piles".
The EP contains the track "Get The City Warm" ft. Bumpy Knuckles & Satchel Page you can already take a listen to. Another five hip-hop heavyweights will be on that EP, production credits go to Confidence, Audible Doctor, Ras Beats and Tommy Tee.
The bonus track "Overseas With Officials" features Large Professor.
The EP will be available on limited white vinyl as well as an standard black wax. Pre-order date is not available yet but SBS and Ill Adrenaline will keep you updated !!!
Constantly check
www.illadrenalinerecords.com
and show your support.
My special thanks goes out to Benny at IAR, Neek and Large Pro. All copyrights reserved, posted for promotion use only.