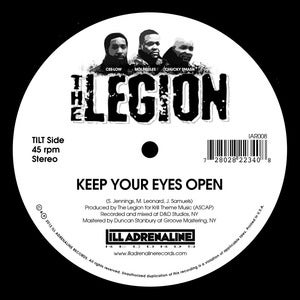 A lot of stuff in the pipeline of Ill Adrenaline so here is an update on another sure shot. I am talking about their second "The Legion" release on 7" vinyl.
Following their two tracker "Straight Flow" bw "Automatic Systematic" from earlier 2012 the Bronx trio Chucky Smash, Molecules, Cee-Low present two more unreleased tracks before they release a brand new album.
"Keep Your Eyes Open" bw "Street Truth" were recorded in 1995 and the sound comes straight from the D&D Studios / New York.
Place your order via
Ill Adrenaline Records
as soon as available. There are100 copies on limited
red
vinyl available.
My special thanks goes out to Benny at IAR and The Legion. All copyrights reserved, posted for promotion use only.