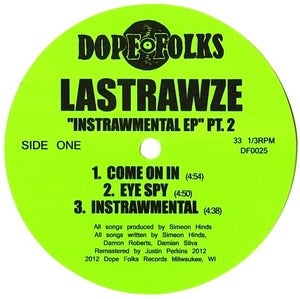 Another Dope Folks December release is the second part of the Lastrawze album "Instrawmental". Volume 2 contains another 6 tracks from the CD only release - so finally all album tracks are now officially available on vinyl for the very first time.
The Instrawmental EPs Vol. 1 & Vol. 2 are both limited to 300 copies, not to be repressed. If you missed out on Pt. 1 you better give both records a listen now and order this before they are gone. Check also the ying & yang style labels in neon-green/black.
order:
www.dopefolksrecords.bigcartel.com
shipping: late December
A: Come On In
A: Eye Spy
A: Instrawmental
B: What U Deal With
B: Who Makes Da Mic Sing
B: When The Smoke Clears
My special thanks goes out to John and Chris at Dope Folks Records and Lastrawze. All copyrights reserved, posted for promotion use only.