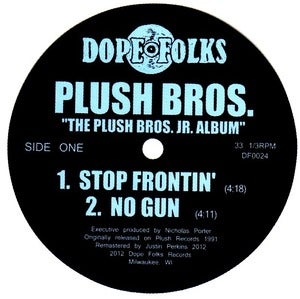 The newest release from
Dope Folks Records
is a re-release of the very sought after EP by Philly's Plush Bros. Originally printed in 1991 the random rap release became a holy grail and got sold for several hundred US$ over the last few years.
Now but in a limited quantity of 300 copies it is available on vinyl again via Dope Folks Records. After the Lord Aaqil, Back To The Lab and Omniscience EPs this is the next release that will sell out with the quickness. As a constant reader of the Stitch By Stitch blogspot you'll not miss out but hurry up!
order here:
www.dopefolksrecords.bigcartel.com
shipping: late December
A: Stop Frontin'
A: No Gun
B: 11:55
B: Back To The Lab
Produced by Plush Bros.
My special thanks goes out to John and Chris at Dope Folks Records and the Plush Bros. All copyrights reserved, posted for promotion use only.