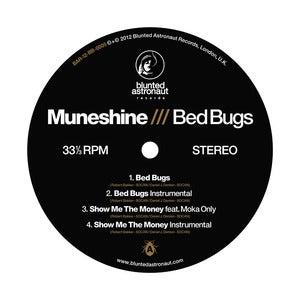 Another Blunted Astronaut announcement from November 2012. Most of you probably heard about MC Muneshine who released two dope 12s on Handcuts.
The new EP "Bed Bugs" is the next release after his album "There Is Only Today". It features lyrics by Moka Only and Ghettosocks plus beats by Soundsci.
A1: Bed Bugs
A2: Bed Bugs (Instrumental)
A3: Show Me The Money ft. Moka Only
A4: Show Me The Money (Instrumental)
B1: Lower Level (SoundSci Remix)
B2: Lower Level (SoundSci Remix Instrumental)
B3: No Days Off ft. Ghettosocks (Herbaliser Remix)
B4: No Days Off (Herbaliser Remix Instrumental)
The EP is limited to 500 copies and available at
www.bluntedastronaut.com
Artwork by Mr.Krum.