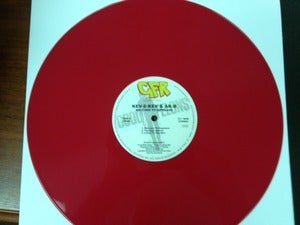 Finding lost tracks from sitting on the shelves for over 20 years must be an amazing feeling. John V and J-Force present Kev-E-Kev & Ak-B featuring producer extraordinaire, Paul C.
A limited edition and hand-numbered EP pressed on
red
,
yellow
and black vinyl ready to ship end of September.
The EP features 7 tracks including their already famous songs from the late 80s.
A: Welcome To The Dopeland
A: Freestlye Groove
A: Listen To The Man
A: Keep On Doin
B: Think
B: Protected
B: Out For The Count
Available is also a very very limited edition of the Instrumental LP version (GF-007) that brings you the pure Paul C sound experience. It's like back in the days, oh wow !!! 250 copies only on
red
/
yellow
m
a
r
b
l
e
d
wax: so be quick and safe your copy now.
My special thanks goes out to John V and J-Force as well as Kev-E-Kev and Ak-B. In memories of the greatest PAUL C : R.I.P. All copyrights reserved, posted for promotion use only.