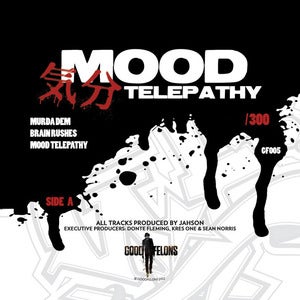 After the "Hustle On The Side EP" GoodFelons presents the second release of Mood. The "Telepathy EP" is a hand-numbered, limited edition of 300 copies and comes in a full picture sleeve. All pre-orders come with a 11 x 17" poster signed by Main Flow.
Check the
store
now and choose your favorite colour (
soliCheck thd blue
,
clear
or black // 100 copies each).

A1: Murda Dem
A2: Brain Rushes
A3: Mood Telepathy
B1: We Don't Need A Hook
B2: Based On Pure Murderizm
B3: The Highway

All tracks produced by Jahson
GoodFelons expects shipping the third week of July.
My special thanks goes out to Sean and John at GoodFelons. All copyrights reserved, posted for promotion use only.