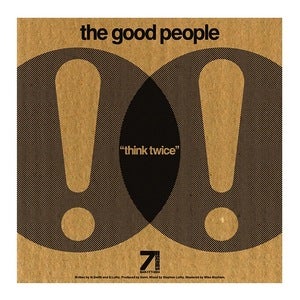 Lively time at Blunted Astronout Records. A pressing plant complaint, an preferred shipping date and the announcement of two new releases.
First of all "The Good People" (Emskee and Saint) from the NYC dropping two new quality tracks for a new Blunted Astronaut 7".
"Think Twice is a mid to slow tempo banger which tells of the pitfalls of not trying to make calculated, wise decisions in one's everyday travels ... "The Theory is a smooth, jazzy-oriented joint which explains how alot of mc's and producers in the game don't really take the art form of making hip hop music seriously ... Both tracks are from the forthcoming release of The Good People's 4th album "Gone For Good" [
source
]
A: Think Twice
B: The Theory ft. Spectac

Produced by Saint
Limited edition of 300 numbered copies
Printed on 18pt brown 100% PCW recycled chipboard
Artwork by Mr.Krum
At the same time Blunted Astronaut announces the 10" EP by
DJ Doom
. Follow the link and experience more on that release now. My special thanks goes out to Kuba Bujko at Blunted Astronout. All copyrights reserved, posted for promotion only.