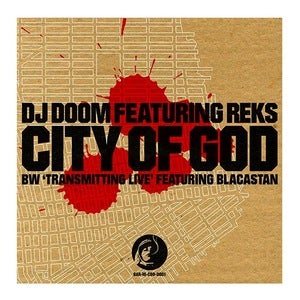 Brooklyn's DJ Doom has been into the culture since the early 80's from being a Graff writer, a B-Boy, a DJ and a Hip Hop producer. His latest album "Temple of Doom" featured many MC's, like Craig G, Large Professor, Prince Po, Krumbsnatcha, Blaq Poet, and Grand Daddy I.U. just to name a few.
It was last year when DJ Doom invited Reks and Blacastan to create what was originally planned a 7" single. After a few months of brainstorming Blunted Astronaut and DJ Doom decided to extend it to a 10" EP format.
"City Of God featuring Reks is a powerful narrative about the violent state of affairs in many of America's cities. Inspired by the movie 'Cidade De Dios' by Fernando Meirelles, Reks gives the listener an in-depth descriptive about everyday events one has to experience in order to survive in a tough, concrete jungle. Doom's precisely chopped piano stabs complement his lyrics, adding further gloominess to the track. There are two versions of 'City Of God' on this record, the original on Side A, and the "Park Bench Mix" featured on Side B.
On 'Transmitting Live', Blacastan schools all wanna-be rappers on what it takes to be a true, hard to the bone MC. The charismatic poet, Blac brings us right to the centre of action in a crime-filled neighborhood, where gang violence is omnipresent. His powerful rhyme voice, and gripping storytelling blends perfectly with Doom's grimey, head-nodding instrumental. The last track on the EP is a bonus beat called "SP Madness". Like in all of the instrumentals on the 10", here Doom also utilized only 10 seconds of sampling. [
source
]
A1: City Of God ft. Reks
A2: City Of God (Instrumental)
A3: Transmitting Live ft. Blacastan
A4: Transmitting Live (Instrumental)
B1: City Of God ft. Reks (Park Bench Mix)
B2: City Of God (Park Bench Mix Instrumental)
B3: SP Madness ft. T.R.A.C. (Bonus Beat)
Hardware: SP1200
500 copies pressed (200
red
, 300 black)
Printed on thick 18pt brown 100% PCW recycled chipboard
Artwork by Mr.Krum
My special thanks goes out to Kuba Bujko at
Blunted Astronaut
. A special shout out to Mr. Krum as well. All copyrights reserved, posted for promotion use only.